Estate Planning and Probate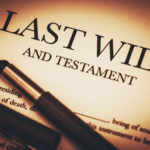 Jones, Jackson & Moll can assist you with an effective estate plan to protect your interests during your lifetime as well as protecting your heirs' interests after your death. Some of the legal documents that may be needed to accomplish this are wills, trusts, pour-over wills, powers of attorney, health care powers of attorney, living wills, and guardianships.
Our experienced attorneys will prepare the necessary documents for your particular estate planning needs.
If you are involved in a court probate matter, Jones, Jackson & Moll can assist you in maneuvering through this oftentimes complicated procedure. From filing the first petition through the final distribution of assets, our seasoned attorneys will guide you through the probate process to ensure the estate is distributed properly and is in compliance with the Probate Code.
There may be disputes that arise in any estate case between beneficiaries and the executor. Our attorneys will assist executors in negotiating and in the courtroom with absolute confidence and professionalism.
We look forward to visiting with you about your legal needs and how we can be of service. Contact us today at (479) 782-7203 or via our contact form.